motorcycle touring holiday Germany Europe classic Ducati Bimota Superbike experience
Bimota YB 4 ei: Rental Classic Superbike for guided tours.
The YB 4 EI: Winner of the Formular I Word Championship, 1987
wiring YB 4 ei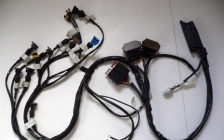 This is a new YB8 i.e. wiring loom that will be used as the original loom is beyond repair. It has all the same functions as the YB4 loom plus a connection for the exup valve which will be used for the signal to the tachometer.
motor detail:throttle bodies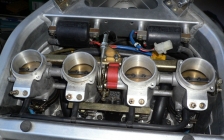 Finally the throttle bodies can be test fitted, a great sight after the ugly carburetors that had stolen their places
technical data