motorcycle touring holiday Germany Europe classic Ducati Bimota Superbike experience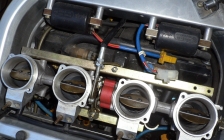 Throttle bodies on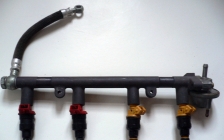 The injector rail with original red Weber injectors on the left, which are being replaced by the orange type sourced from a Volswagen Vento.
These orange injectors have exactly the same spec as the originals and fit the fuel rail perfectly but are much cheaper to buy.
No promises, but I will report on the results.
I still have a few spare red Weber injectors on stock if need be.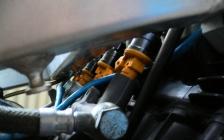 The new Volkswagen injectors fitted and connected.