motorcycle touring holiday Germany Europe classic Ducati Bimota Superbike experience
Motorcycles

In answer to the question, "What bike did you learn on?" she answered, "It's red" and found that a perfectly complete answer.

As she then with her newly acquired motorcycle driving licence went motorcycle shopping in high heels and a mini skirt, concluded that a motorcycle, quite opposite to a car, has 2 wheels and can fall over. She never went back to the shop.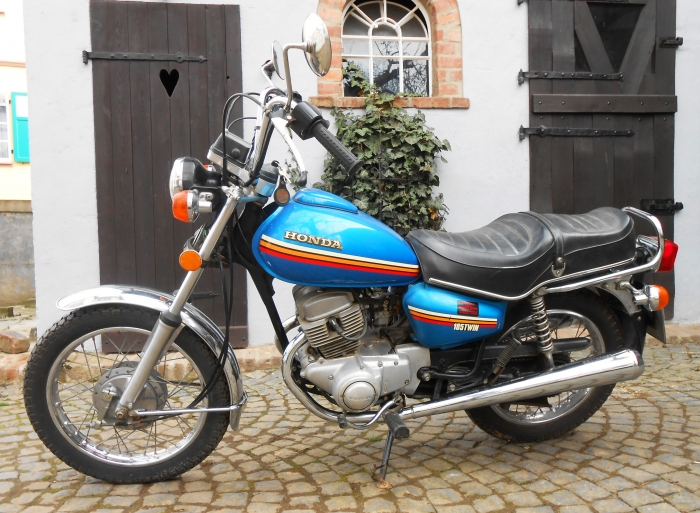 The bike that she did then buy was a used blue Honda, which at least had 2 cylinders, and 2 cylinders means 2 exhausts, one for the burns on the left shin and one fort he burns on the right shin.
That motorcycling was obviously not only dangerous to health as well as beauty and that motorcycle trousers were rarely sexy, she gave it all up. For a little while anyway.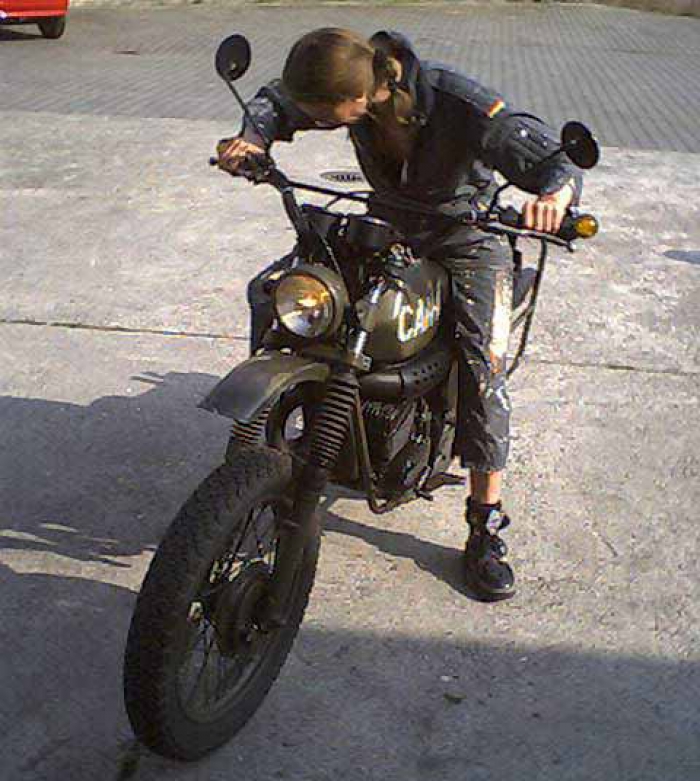 Then came a single cylinder bike with a disc valve, but that didn't really solve any transport problems as the clutch either slipped or didn't want to separate, the piston siezed and the carburetor didn't carburate as it should have. The bike really was 'solid as a rock' though. Especially after it had siezed! But man (and woman) grows with his responsibilities. Oh yes, the colour! It's green. An olive green ex British army Can am Bombadier 250cc Rotax.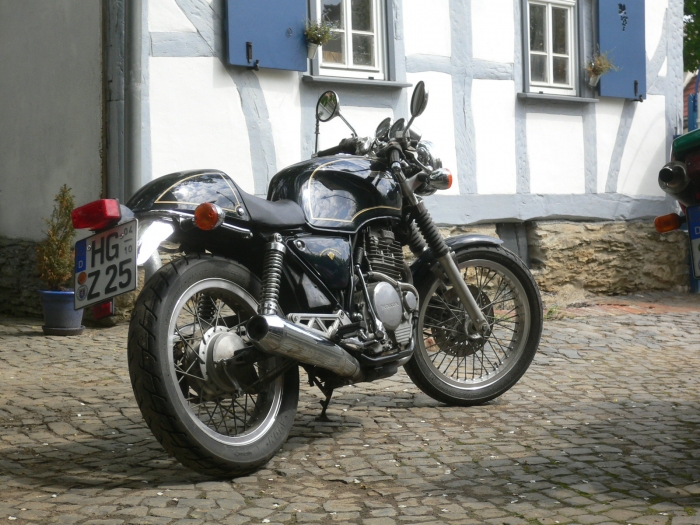 It really was time to get something that went, and reliably. And still very satisfied with the 'buy'; a GB500 Honda Clubman (woman), 1 cylinder, 4 stroke, cam chain, radially arranged valves, 8 rockers. Horsepower? No idea. She goes fast enough for me and is really fun to ride. Colour? Not really sure, sort of British racing green.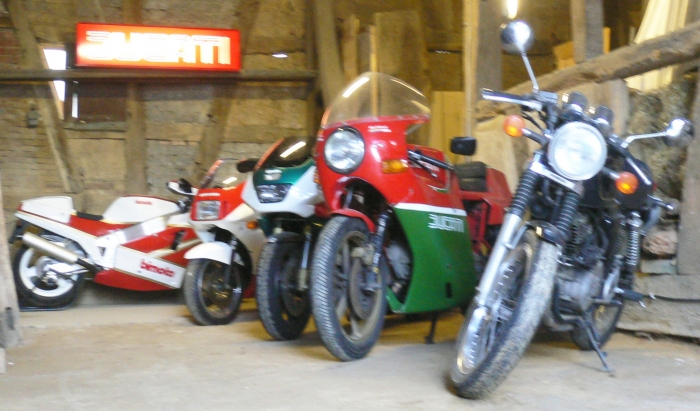 Since then the things just seem to multiply in some wonderous way . . .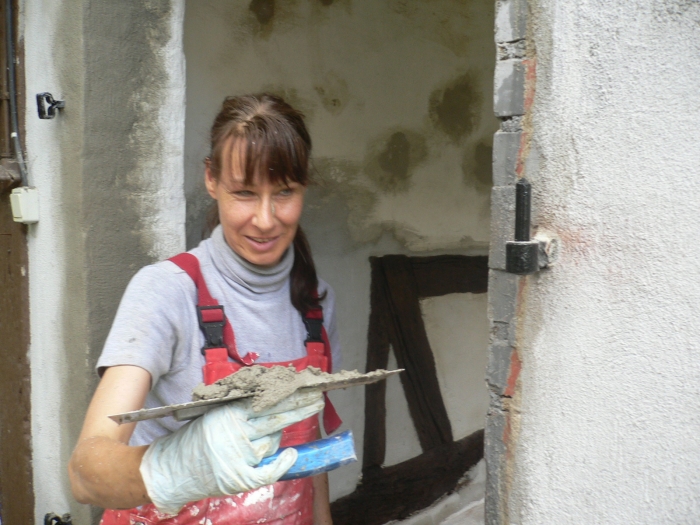 House,
Once upon a time, there was a girl from Frankfurt, who knew exactly, if there was something that she absolutely definitely did not want, it was her own house. And definitely not one in the countryside, and absolutely definitely not an old house, certainly not one with a garden, or pets, which surely rules out all of those things at once.
Then, sometime as the big city life was just going great, came along a prince from a far away land on a Ducati! Both of them would have to pass many trials, and after 6 years of courtship, he married her. He brought her to the 250 year old hut and garden with pets in the far away land of Usingen.
And they lived there happily and satisfied, stamping lime, painting linseed oil, mixing chalk plaster; with cats, chickens, hedgehogs and other creatures, with increasingly tired bones and muscle ache, but with big plans for their wonderful and romantic, but never ending building site.
I love this place!
Curriculum Vitae:
Coming as a fresh shoot from the north to the big, wide and colourful Frankfurt, she grew into a freelance Art director and lived a cool and chic life of agencies, boutiques, clubs and cafes in the sunny tree lined allees and parks of the big city.

However that something respectable would become of her, she decided to study German, so the city flower switched to the university campus and studied literature, and art education keenly. Actually a profitless task, that needed to be improved upon to a Masters degree, and together with a theoretical PR training in Heidelberg and professional experience at Topcom Communication Ltd. The industrious little bee hummed in and around the Communications branch and collected enough fruit from her labour to quickly step up to senior PR consultant.

Then the Art Director and PR consultant decided to change to Human Resources management where she developed herself again to a senior position, thanks to good nuturing and care. She however didn't want to put down roots as a headhunter, so as the autumn of her consultantcy career slowly drew nearer, her hair began to turn grey and the evenings shorter.

Dawn broke in teaching-land, she changed again to new ground and field as an Art and German teacher in a private school for adult education. The work not only bears fruit but is fun.

She thinks it's great, hopefully the students think so too!