motorcycle touring holiday Germany Europe classic Ducati Bimota Superbike experience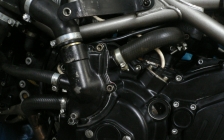 A new gasket on the water pump and change the coolant at the same time.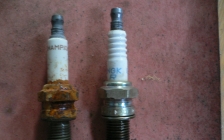 Help ! it was running nice, but 2 different spark plugs fitted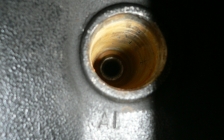 and the front spark plug tunnel has collected water at some time. It has dried out now but I still cleaned the deposites out and replaced with 2 new Champion Q55V surface discharge type spark plugs, which are highly recomended.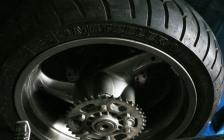 Here is the Ducati 17" rear wheel which is a direct replacement for the standard 16" wheel. It just needs a matching brake caliper mount because the brake disc is spaced further out tahn on the 16" wheel. Nicely, it also matches the colour of the frame which is very elegant. But I will probably get it painted gold as on the 851 Kit models.
And a Yamaha FZR1000 front wheel which also fits straight in, except the hub is much wider than the standard wheels so I need a later Ducati 17mm wheel spindle. And with all 17" wheels the brake disc mountings are on a smaller pitch circle. I have just managed to buy some 280mm brake discs from an MZ Supermono racer with this fixing pattern, so they should also fit directly on, we will have to see when I recieve them ?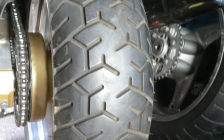 While I am still collecting all the parts for the 17" wheel conversion, I got a partly used tyre fitted to replace the completely worn out tyre that was on it. These tires have been out of production for quite a while and no other maker makes a sports tyre in these sizes ! ! Either you have to fit rare, expensive and out of date old stock or the new fitting tires from Goldentyre, however these do not have type approval yet for Germany. Best choice is the 17" conversion for handling and a wide choice of modern tires.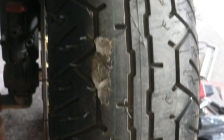 Luckily the bike already has a new front Michelin, even if it is NOS. But that will not bother the Tüv inspectors! and I have tires to use for a bit, I also have one more NOS rear tyre packed away.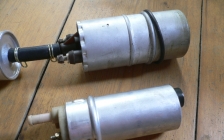 And the next step in the fuel pump saga is a BMW K1200LT fuel pump (foreground) that I came across. It has a smaller diameter than the original pump (rear) but I have ordered a so called sock out of fuel resistant foam rubber which packs out the space between pump and holder. This pump also has the same specifications as the original pump. The original pump just stopped working at the end of last year, even though the seller told me it was new, it clearly was not, maybe second hand? so I fitted the pump from the Bimota YB4, exactly the same. But as the Bimota can only use exactly the same diameter, I need to change the pumps over again.