motorcycle touring holiday Germany Europe classic Ducati Bimota Superbike experience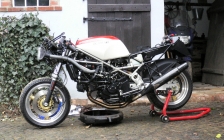 First of all, best to remove all the bodywork, which I store safely hung up in the roof of the barn. Then with a nice big oil catcher, drain the oil and remove the oil filter.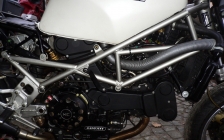 A good opportunity to take a good look around the bike while its naked to see if anything else needs to be done.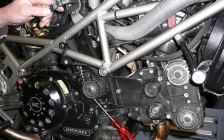 The belts were changed at a dealer before I bought the bike so they should be ok, but I took a look under the covers to make sure that everything was still as it should be anyway.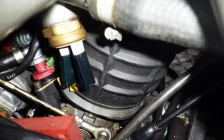 I had already previously spotted that some of the fuel injectors had been replaced. I worried that each cylinder has one red and one black injector, but have found out that these 2 types have the same specification. However I have collected a set of 4 black injectors as spare parts if I ever need to change.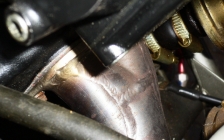 With the body off, I could also get a good look at the modified exhaust headers, this is the rear one. According to the Ducati factory news bulletin sheets, to increase the efficiency each header is machined at the side and a new piece welded in to smooth the transition from 2 into 1 pipes. This was all done when Mercedes Benz racing department owned the bike.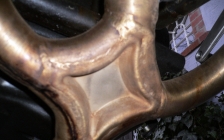 Here is the exhaust cross over where front and rear cylinders join opposite one another and exit left and right to the mufflers. These have also recieved new parts welded in to increase the cross section of the pipes.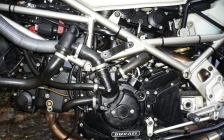 THere seems to be a slight water leak from the water pump, so that is one of the next things to attend to.