motorcycle touring holiday Germany Europe classic Ducati Bimota Superbike experience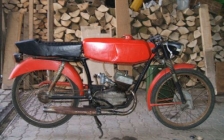 Here is the bike as I bought it with an unoriginal seat and hand painted red. Luckily all the rubber parts with the Gitan logos and other trim pieces are there. The only missing parts are the tool boxes, tyre pump and the speedometer, but that was originally an extra, so it probably never had one.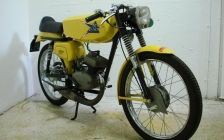 A totally restored bike. I found out that the original colours were yellow or gold, I have seen 2 or 3 pictures of yellow ones and therefore planned to paint it yellow.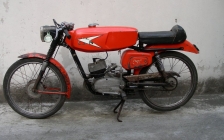 But now I recently found this red bike which appears to be very original, maybe I could keep it red. The transfers are available from a few sources. I suppose I will find some remains of the original paint when I strip the paint that is on it.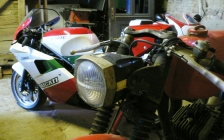 After I could find an original Gitan seat in Manchester, I wonder about the headlight now, different to the bikes in the other pictures but it is any way very authentic looking. If anybody can help with any pictures or information about Gitan Grillos, especially where to get spare parts, please contact us